Starting out in business as a Chiropractor can be both exciting and frightening. The First Three Months in business is the most important component of producing a successful practice. This period dictates how you will grow in your first year as a Chiropractor and what you don't know can hurt you. The last thing you want in the first six months of practice is to become "frustrated" and "powerless". The key is to know how to grow your Chiropractic business before you start.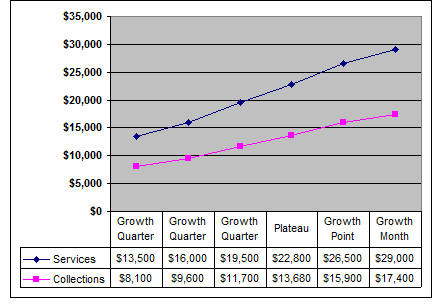 The first three months we call the Growth Quarter. It is essential that you produce consistent and contiguous practice growth throughout this period. The fourth month we call the Plateau. Every practice, even mature practices plateau, every fourth month. It is absolutely necessary that you are equipped with the proper training to grow through the Start-up Growth Quarter and into the Plateau month, at the highest possible production.
The fifth month is called the Growth Point. If you grow your practice through the Growth Quarter and Plateau, then you'll reach the Growth Point where your practice should start to grow. Every month after will be a Growth Month.
STATUS Online Practice Management has a training program for new doctors that will get you started right away to maximize growth throughout your first six months of practice and beyond. Coupled with a growth projection every year, you will be able to reach your practice maturity and start to reap the benefits of a profitable and stable practice.
Here's what one new doctor had to say regarding his experience with STATUS.
"I've seen a lot of DC's struggling to grow their practices, so naturally I was concerned about how I was going to grow my practice after graduation. STATUS Online's program gave me a plan of action along with a proven tracking system to ensure my success. I was thoroughly impressed with the knowledge, patience, and professionalism that David Brown exhibited throughout the entire seminar in teaching the Status Online program. I now feel confident as a new doctor in my ability to track my patients to get maximum results, and to set up my practice the correct way to ensure my success long term. I would HIGHLY recommend every Chiropractor take STATUS Online's program. "

Dave Schlute, D.C.
Marketplace Chiropractic
Long Beach, CA
Register Today. Insure that your start-up is successful and sets you on the proper road to Growth and Profitability.